Principal's Message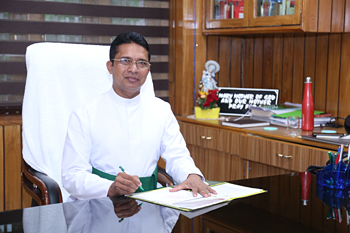 The goal of education is not to increase the amount of knowledge but to create the possibilities for a child to invent and discover, to create people who are capable of doing new things.
Jean Piaget
With utmost humility and honour, I take the responsibility of leading St. Patrick's Academy, Dehradun, to its journey of finding a niche among the best schools of India. Carrying forward the mission of the Patrician Brothers, my effort is to ensure that the 'education is imparted to the students with the everlasting values that will help them to develop their true potential to the optimum'.
Every child grows and develops in a number of interrelated areas – social, emotional, communication/language, cognitive, and physical. To address the full range of each child's developmental needs, the school must provide opportunities for learning. In the present age, information and communication technology provide tools to the students to enrich their knowledge. My goals are to ensure that such a safe environment is created in the school where children learn naturally; they acquire skills and knowledge to find their place in the rapidly changing world and above all, they become responsible citizens of the world.
With a dedicated team of teachers, I seek the parents' support as we go forward together in our quest to create a better future for our future generation.
God bless you!
Bro. O J Joseph
Principal